This Sunday's jewelry report card is a walk through the art jewelry gallery Didier, London.  Each weekend we bringing you our pick for the best online visual jewelry destination on instagram. The accessories accounts we choose also present either a visual feast both on and off instagram or offer unique storefronts as well.   It's rare that someone excites and surprises us weekly, but this is one such case. Didier's collection holds works of jewelry art by Calder, Picasso, Man Ray, Louise Nevelson and well beyond. People are catching on too, recent press includes magazines and newspapers. Their jewelry bridges iconic and interesting artist made jewelry pieces of non fine as well as fine material.  I've followed them for a little while on instagram, indulging in their posts, which often feature a beautiful model wearing the sculptural works. One such example they have for sale, is a personal favorite of mine created by Italian designer Getulio Alviani. Called "the ear disc" it was photographed in fashion magazines and created in 1965 in aluminum. His jewelry combines technology, architectural, and sculptural aspects. More information via this article link.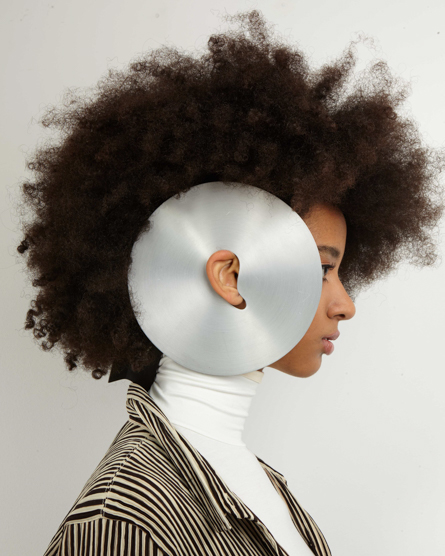 Didier, Ltd recently opened an online storefront, which provides us more access to offerings that they normally show at events like the Winter Antiques Show in New York City. Their gallery, now in Kensington, was originally opened in 2006 by Didier and Martine Haspeslagh. As with the two owners, they also have not one but two instagram destinations. The second is @artistjewel, which we also follow.  Below, is the vintage image of the Arnaldo Pomodoro positive negative rings, followed by the one that Didier, Ltd owns.
Instagram can serve for the jewelry lover, as a place to be surprised, enthralled, and further educated about great jewelry. Didier's account does just this, as they regularly post images of unique and rare pieces. Their offerings include such spectacular accessories by Harry Bertoia, Karel Appel, Max Ernst and other modern design masters, that it makes it hard to choose what pieces we like best. Below are some snaps of our favorite instagram images from both accounts:
*Images by Didier, London via their online store and instagram account.